GTRC, Rolls-Royce, SAMPLE team up at SR Technics in Zurich Airport.
The Gas Turbine Research Centre continued its contribution to international research into aircraft particulate matter emissions together with world experts at the SR Technics site in Zurich Airport in a three week study funded by the European Aviation Safety Agency (EASA) and the Federal Office of Civil Aviation (FOCA). The study has built upon the series of successful international research programmes SAMPLE I to III that EASA funded and Cardiff University hosted and under consortium leader Rolls-Royce took the research to a world leading aircraft engine test facility based in Zurich, Switzerland.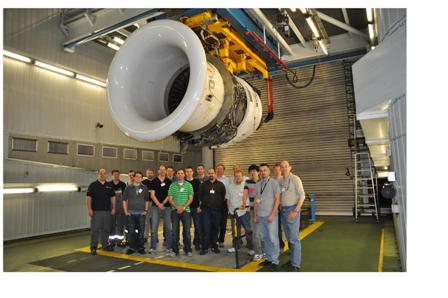 Left to right: Mark Johnson, Rolls-Royce, Marcel Zeeb (SR Technics), Patrick Meier (SR Technics), David Walters, Cardiff University, Greg Smallwood, National Research Council Canada, Jason Olfert, University of Alberta, Lothar Keck, Grimm Aerosol Technik, Adam Boies, University of Cambridge, Tyler Johnson, University of Alberta, Kevin Thomson, NRCC, Yura Sevcenco, Cardiff University, Hans Joachim Schulz, Grimm Aerosol Technik, David Lister (behind), UK CAA, Jacob Swanson, University of Cambridge, Wang Jing, ETH, Frithjof Siegerist, SR Technics, Michael Arndt (behind), AVL, Theo Rindlisbacher, FOCA.