GTRC FLEXIS Researcher wins ASME Turbo Expo travel Award
GTRC FLEXIS researcher, Jon Runyon, was awarded a 2019 ASME Young Engineer Turbo Expo Participation Award which covered travel, accommodation, and registration at the 2019 ASME Turbo Expo in Phoenix, Arizona (17-21 June, 2019).
The award was given to present paper GT2019-90215 entitled, "Characterization of Additive Layer Manufacturing Swirl Burner Surface Roughness and Its Effect on Flame Stability Using High-speed Diagnostics" in partnership with Renishaw and HiETA Technologies.
A link to the paper can be found below.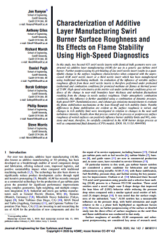 Characterization of AdditiveLayer Manufacturing SwirlBurner Surface Roughness andIts Effects on Flame StabilityUsing High-Speed Diagnostics